Secure Connection & Global Access
Use CT Access to stay safe and anonymous wherever you are—on a business trip or just traveling the world. Surf the web freely and securely from anywhere.
One browser extension for the global Internet access
One-click solution for those who travel a lot! Add CT Access extension to your favourite browser, select a country and enjoy high-speed Internet without restrictions. Once the secure connection is established, CT Access will work in the background, keeping you protected all the time.
Privacy first

Protect your identity. No one can see what websites you visit and disclose your location.

Clear-cut interface

Activate the extension in just one click. A simple interface makes it perfectly easy to stay protected at all times.

Location spoofing

Sets your geolocation data according to the IP address of the VPN location you are connected to.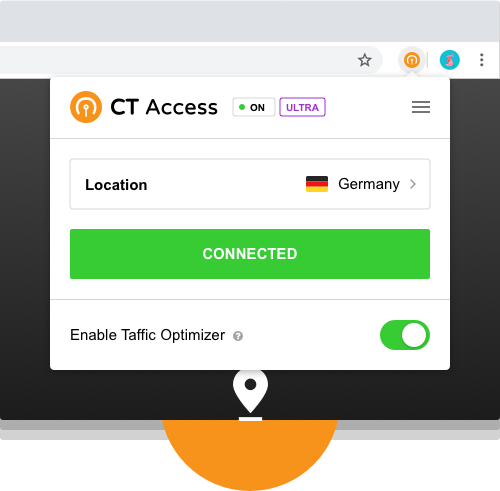 Why choose CT Access?
CT Access has all the necessary features to provide you with fast and secure Internet access from any part of the world.
Switch location

Easily switch your location and continue to enjoy your usual routine and familiar content as if you are at home.

Safe access

CT Access provides a secure encrypted tunnel for your data transmitted over the Internet, keeping it perfectly safe.

Wi-Fi shield

CT Access maintains a protected connection even when you are using public Wi-Fi. Stay secure on any Wi-Fi hotspot you connect to.

High-speed connection

Enjoy unlimited speed wherever you are - your comfort is always with you.

Traffic and battery optimizer

Block distracting ads with traffic optimizing feature. It allows you to use less mobile bandwidth and keep the battery charged longer.

Browser extension

You do not need to install any software. Just add the extension to your browser. Use it on multiple devices and enjoy secure connection.
Protect your privacy. Get extra benefits with premium features.
Add CT Access to your browser for easy and safe web surfing from all around the world. Choose the server location to connect, eхplore new possibilities of using a web browser and enjoy extra benefits.
ADD TO BROWSER